Jamón Ibérico de Bellota; Compliments of the Chef!

We are excited to feature, as part of our artisanal meat selection, the 5J brand of Jamón Ibérico de Bellota, a free-range, acorn-fed Pata Negra that is recognized as the finest ham in the world! 

To introduce this amazing product to those who may not have it before, we will feature a complimentary tasting served with your dinner at each of our locations on select evenings (call ahead to...
Virginia Ramps
This morning, DC chef Brian and I got up early and headed out to his secret ramp patch in Virginia. Armed with rubber gloves to fend off poison ivy and two big bags we headed down a small horse path deep into the woods. As we approached the top of a small hill, we could see an opening in the woods. The morning sunlight poured in revealing dark green patches of ramps everywhere - enough to keep...
A cocktail that's actually good for you?
It might be a stretch… but…our "Albahaca Gintonic" cocktail is made with Junipero Gin, Lime, Basil and a very carefully selected tonic water: Q Tonic Truly unlike other tonic waters, Q Tonic is hand-picked quinine from the Peruvian Andes, made with organic agave as the sweetener, has 60% fewer calories than regular tonic water (so you can have 2!), contains all...
Wines of Galicia: Lagar de Broullón 2010 ~...
From wine maker José Pintos comes this beautifully full-flavored and complex Albariño with notes of green apple and a long clean mineral finish.  José's south-southwest facing vineyard is located in the heart of Val de Salnés in Galicia, the home of Albariño. Through meticulous vineyard work and a natural approach to production, José exhibits a great deal of pride and care in his work. With only...
Wines of Galicia: Lagar de Candes 2010 ~ Albariño
Next in our series of Galician wines imported by Gerry Dawes is the Lagar de Candes, hailing from a family run vineyard and winery located in the village of Meaño in Val de Salnés. Eulogio Gondar, the fourth generation winemaker of the family, marries both modern and artisanal winemaking techniques to produce the 2010 Albariño. The wine shows a great deal of complexity, notes of orange...
Wines of Galicia: Avó Roxo 2010 ~ Albariño
  As part of our spring line up of Galician wines from importer Gerry Dawes is the Avó Roxo 2010 Albariño. This is truly a family run winery, founded originally in the 1930's by Serafín Gondar who's nick name, Avó Roxo (Grandfather Purple), provides the name of this wine. The winery and 1.5 hectors of land dedicated solely to Albariño, was subsequently passed down to Serafín's son Antonio Gondar...
Wines of Galicia: Rozas 2010 ~ Albariño
The 6.3 acres of vineyard of Manolo Dovalo, who produces the Rozas Albariño, are home to vines that have been producing Albariño for generations and was originally founded for the family's own consumption. As part of the "Asociación de Bodegas Artesanas," the bodega incorporates minimal modern wine making techniques while maintaining strong family traditions to ensure pure, artisanal wines. The...
Wines of Galicia: Cabaleiro do Val 2010 ~ Albariño
From our spring line up of rare Galician wines imported by Gerry Dawes Winemaker Paco Dovalo López has been making his signature wine for over 100 years in an old granite stone farmhouse inherited from his ancestors. It wasn't until 1989 that Cabaleiro do Val was officially incorporated as a bodega. Also part of the Asociación de Bodegas Artesanas, Paco strives to incorporate modern techniques...
Wines of Galica: Adegas D. Berna 2010 ~ Godello
The first in our spring series of Galician wine imported by Gerry Dawes is the Adegas D. Berna, from Valdeorras, a Spanish DO located along the river Sil in the province of Ourense in Southern Galicia. The winery is owned by young husband and wife team Berna Guitián and Elena Blanco. In collaboration with consulting enologist José Luis Murcia, regarded as the utmost expert on Godello in all of...
The Wines of Galicia
Spring is just around the corner and that gives us a great excuse to start pouring (and drinking) some great new white wines. This year our New York locations will be toasting to the new season with the most unique and exciting collection of Galician wines we've ever featured.   Spanish wine guru Gerry Dawes traversed the northeastern reaches of Green Spain to seek out this handpicked...
"Os pementos de Padrón, uns pican e outros non"
Translation: Padrón peppers, some are hot and some are not Pimientos de Padrón Blistered peppers, coarse sea salt Named for the municipality of Padrón in the providence of Coruña in Spain's North Western Galica, these beautiful sweet peppers are fried until the skin blistered and are generously sprinkled with sea salt. Sometimes spicy, 1 in 10 depending on the time of the year, they are...
Torta del Casar
New to our repertoire of artisanal Spanish cheeses is the Torta del Casar, from the city of Casar de Cáceres in Extremadura, Spain. (Flickr Photo Credit: tortacasar ) In the production process, cardoon thistles (relative of the artichoke), are used as a vegetarian source of enzymes and replace the acid or rennet that is traditionally used to coagulate the milk. The result is a pleasantly sharp,...
Featured Winemaker: Bodegas Ponce
In the region of Castilla-La Mancha lies the Manchuela DO, a land of high plateaus, winding rivers, deep gorges and spectacular landscapes.  (photo courtesy wikimedia creative commons) The Bobal grape, with its colorless and meaty pulp, thick skin and vibrant color, finds it home here and thrives in the long, hot dry summers. It is this grape that young wine maker, Juan Antonio Ponce has...
Roscòn de Reyes
Chef Vidal's Roscòn de Reyes, Three King's Bread, commemorating the arrival of the 3 Kings (3 Wise Men) on January 6th, the Feast of the Epiphany.
NYE 2012 in Washington DC
Photos from our NYE party in homage to Almodóvar in Washington DC! See more on our Facebook album here: https://www.facebook.com/BoqueriaNYC
Top 10 Restaurant Openings of 2012 (Washingtonian) →
We are so proud of our DC team for making the Washingtonian list of the Top 10 Restaurant Openings of 2012 and even happier to be part of the DC restaurant scene! Photo: Chorizo, Serrano ham, salchichón, and tomato bread (left) and churros with hot chocolate dipping sauce (right). Photograph by Scott Suchman. From Ann Limpert's review of Boqueria in the Washingtonian on July 30, 2012
Three Cheers (and Three Stars!) for Boqueria Hong... →
We couldn't be more proud of the most recent addition to our family; Boqueria Hong Kong. In Tuesday's restaurant review on Bloomberg.com, Frederik Balfour explored Hong Kong's recent obsession with Spanish cuisine and visited 3 new Tapas spots, yours truly included. Of the many tapas samples, Balfour highlighted the baby squid served in a romesco vinaigrette, tomato confit...
Brandied Cranberry Sangria
We love this Sangria for a festive holiday treat. For the brandied cranberries 1 bag fresh or frozen cranberries 2 cups sugar 1.5 cup water 0.25 cup triple sec 0.5 brandy 1 cinnamon stick 1 clove 1 star anise Simmer spices, sugar and water until sugar is dissolved. Add cranberries and heat over medium heat. Once the mixture begins to boil remove from heat. Add brandy and triple sec. Allow the...
Drunken Goat
Featured Cheese at Boqueria Flatiron: Queso de Murcia al Vino (aka: Drunken Goat) A fatty goat's milk cheese from Jumilla in the province of Murcia (Southeastern Spain). The cheese is cured in a local red wine for 3 days. The wine, a Doble Pasta, is made from Mourvedre grapes and is macerated with double the normal ratio of grape skins to juice. The doubling of the grape skins and pulp results...
Help Support the Dine Out NYC Movement
In the aftermath of Hurricane Sandy, #dineoutNYC is a movement that promotes a speedy recovery for the restaurant industry by encouraging people to dine out in New York City. HOW YOU CAN HELP SUPPORT THE #DINEOUTNYC MOVEMENT Here are 3 simple ways to get involved: 1) Dine out in NYC (Not only do you enjoy a good meal but you help to support businesses that were hit hard during the hurricane....
Refinery 29: 14 desserts you MUST try this fall →
Our dessert was featured on Refinery 29 and touted as 1 of 14 desserts you MUST try this fall. Click the link above to see the post! "Boqueria: Tarta de Manzana. The Spanish just know how to do things right: siestas, epic lunches, Ibiza. And, now, Boqueria highlights the warm flavors of fall with its take on a classic apple tart: the Tarta de Manzana, a flaky puff pastry decorated with...
Opening Party: Boqueria Hong Kong
WHAT A GREAT NIGHT! Follow our Hong Kong Team and the recent opening: @BoqueriaHK
Featured Winemaker: Telmo Rodriguez
Telmo Rodriguez is an acclaimed winemaker throughout Spain. He began his career as the winemaker at his family's winery, Remelluri in Rioja, and left in the early 90s to pursue his own projects. [Remelluri's picturesque and sprawling vineyard nestled in the hills of Rioja] http://www.remelluri.es Focusing on varietals indigenous to Spain, Telmo helped reinvigorate interest in such grapes as...
NYC Fashion Week: Our Celebration of Spanish...
We were disappointed to learn that Amaya Arzuaga wouldn't be presenting at the NYC MBFW after the stunning showing of her Fall/Winter 2012-2013 collection in Paris: Photo Source PARIS FASHION WEEK – "Look after look at the Amaya Arzuaga show in Paris emulated chicness to a tee. The F/W 12/13 collection showcased streamlined silhouettes in deep wintery hues with slight touches of art deco...
NYC Fashion Week: Our Celebration of Spanish...
A sneak peak at the Fall/Winter 2012-2013 Line of Manolo Presents a much more sober collection in darker, lush and rich autumn colors with many styles on a new thick stacked heel. Some of the inspiration from surrealism that was visible in the Spring-Summer 2012 collection is still prevalent in the new line. The bright, contrasting colors derived from the works of Henri Matisse and the fluid...
New York Fashion Week: Celebrating Spanish...
Victorio Y Lucchino are two of the most authentic Spanish fashion designers whose work truly embodies the traditions and origins of the Spanish culture. José Victor Rodríguez Caro was born in Palma Del Rio, a city located in the province of Cordoba. José Luis Medina del Corral was also born in Spain however in a city called Seville. Both cities are located within Andalusia, an autonomous community...
New York Fashion Week: Celebrating Spanish...
As New York Fashion Week continues, we celebrate Francisco "Paco" Rabaneda Cuervo, a designer who has contributed greatly to the ever-evolving world of fashion. Once known in the French fashion world as "enfant terrible", Paco Rabanne was born in San Sebastian, Spain located in the Spanish Basque country. Like many others he drew inspiration from his mother who was Chief Seamstress at...
New York Fashion Week: Celebrating Spanish...
Today we are going to honor one of fashions greatest pioneers, Cristobal Balenciaga! Creator of the Balenciaga fashion house, Cristobal Balenciaga was born in a small fishing village named Guetaria located in the Basque region of Spain. It was in this village he spent many of his early years working with his mother who was a seamstress. As a teenager Balenciaga started to work for the most...
New York Fashion Week: Boqueria Celebrates Spanish...
There are two very important questions everyone asks themselves when they wake up in the morning. What am I going to eat? And what am I going to wear? However, taking into account that fashion week begins today, I can only assume what am I going to wear will prevail as the most important question!  There are approximately 138 fashion weeks worldwide, therefore one could say it's always fashion...
Fashion's Night Out: Stop in for a glass of Cava...
Mercedes-Benz Fashion week begins today and the festivities kick off with the 4th Annual "Fashion's Night Out". Join editors, stars, models,designers and, of course shoppers, as they flood retail stores across the city and around the world for "fashion's most iconic extravaganza"! The evening promises to be filled with extravagant shopping, celebrity appearances, live music acts, giveaways...
Boqueria Celebrates Spanish Fashion
New York Fashion Week: September 6 – 13 As August comes to a close and the last days of summer dwindle away the city of New York eagerly prepares for Mercedes-Benz Fashion Week. The Theater, Stage, Studio and Box at Lincoln Center will be home to the 80+runway shows of this year's line-up of international designers and emerging artists. This week we'll share some our favorite Spanish...
Fiesta del Arroz
Just south of the city of Valencia, on the eastern coast of Spain, lies a 52,000 acre freshwater lagoon and estuary known as the l'Albufera, part of the Parc Natural de l'Albufera (Albufera Nature Reserve).  The reserve, in addition to being a paradise for migratory birds and a hotspot for local fishing, is the home of an immense rice field that feeds the local gastronomic culture. 
 Rice...
¡La Tomatina!
Once again we find ourselves in the height of summer and more importantly in the middle of New York's long awaited and all too brief tomato growing season! Heirloom Tomatoes fresh from the Market Throughout the month of August we've featured a menu of Tomato centric dishes to celebrate the harvest which also coincides with the world's largest  tomato battle that takes place every year on...
Boqueria HK
Boqueria HK, an outpost of our NYC (and most recently Washington DC) institutions, will open this Fall in Hong Kong. The new restaurant will be located in the heart of Lan Kwai Fong in the LKF Tower, home to a luxury hotel and numerous high end restaurants. Construction is well under way and expected to be complete by the end of September. Follow @BoqueriaHK on Twitter and Like BoqueriaHK on...
It's National Rum Day!
We're not quite sure when or why August 16th was coined National Rum Day but we're not ones to ignore the opportunity to celebrate…and so…the bartenders at our Soho location set out to create a cocktail to honor the spirit. As rum is made from sugarcane byproducts, such as molasses, they were inspired by one of our off-menu desserts; the Piña Inopia. A quarter of a fresh Golden...
Market to Menu: Baby Artichokes
Yesterday at the Union Square GreenMarket, Chef Vidal picked up heirloom cherry tomatoes from Eckerton Hill Farm as well as these beautiful baby artichokes. (Did you know? Farmer Tim Stark grows over 100 varieties of tomatoes every year, with an emphasis on heirlooms, on the 57 acre Eckerton Hill farm in the Oley valley in Lobachsville, PA.) Utilizing these products for this month's menu...
Gin/Tonic
On Calle Pau Claris in Barcelona, there is a small restaurant called Bar Mut. When we arrived late on a Saturday night the kitchen had already closed. All nine of us were escorted into the vestibule of the next-door apartment building and told to wait quietly. An older man with thinning hair sat at his sentry in a tobacco stained grey flannel. He was there to make sure we kept quiet.  After...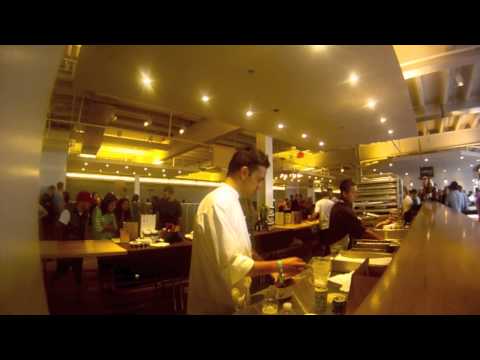 Thursday, July 12th: The Bulls of Victoriano del...
Ver vídeo The sixth running of the bulls of this year's Sanfermin fiestas featured bulls from the Victoriano del Río bull-ranch in Madrid. It turned out to be a very fast running of the bulls and where the bulls proved to be very well-behaved, hardly threatening the runners. The rapid bulls quickly outpaced the bell-oxen and while there were lots of trip-ups and falls, none of the runners...
Wednesday, July 11th: The Bulls of Fuente Ymbro
Ver vídeo A very fast fifth running of the bulls of Sanfermin 2012 and also a very clean run. The bulls from the Fuente Ymbro bull ranch in Cadiz ran together over a large part of the course. While there were a lot of trip-ups and falls along the different stretches of the course, from both the runners and the bulls, it seems that none of the runners received any gorings from the bulls. The pack...
Tuesday, July 10th: The Bulls of EL Pilar
Ver vídeo A very rapid run was completed by the El Pilar bulls, from the bull-ranch in Salamanca, where the bulls quickly outpaced the bell-oxen half way up the first stretch at Santo Domingo and maintained their rapid pace to the end of the course. These six bulls proved to be very well-behaved and, despite the large number of runners on the course today, they hardly attempted any charges at...
Monday, July 9th: The Bulls of Cebada Gago
Ver vídeo A thrilling and dangerous running of the bulls featuring the fearful Cebada Gago bull-breed. One of the bulls named "Fugado" was the main protagonist of the running, after slipping and falling at the beginning of the first stretch in Santo Domingo. The bull was a straggler for the remainder of the run and it created the moments of greatest tension along the different...
Saturday, July 7th: The Bulls of Dolores Aguirre
Video Credit: telegraph.co.uk The first Running of the Bulls of Sanfermin 2012, with bulls from the Dolores Aguirre Ybarra bull-ranch, turned out to be a very dangerous and frenetic run (2 min. 53sec). The bulls ran the whole course at a very fast pace, and in a well-behaved manner, without paying much attention to the jam-packed crowd in front of them or threatening to charge at them. The pack...
The festival of San Fermín
Today, thousands of Pamploneses and Pamplona visitors celebrated the 'Chupinazo', the official opening party of the San Fermín fiestas commemorating St. Fermín, Pamplona's patron saint. The revelers, dressed head to toe in traditional white clothing and red handkerchiefs gathered in the Plaza Consistorial outside the City Hall in Pamplona to kick off the eight days of the running of the...
Pan Con Tomate: Recipe for Easy Entertaining
With the 4th of July falling on a Wednesday, a 5 day weekend will be enjoyed by many. This means plenty of opportunities for parties, barbecues, potlucks and sharing food and drink with friends. This recipe for our 'Pan con Tomate', recently shared on Washingtonian's food blog "Best Bites", is the perfect dish to bring to a soiree; easy to make and sure to be an original. Pan con...
New on the Wine List
Adega Manuel Formiga Finca Teira Blanco 2011 ~ D.O. Ribeiro, Beade Grapes: Treixadura (65%), Godello (20%), Torrontés (15%) Vine age: 20-30 years Soil composition and elevation:  Steep terraces and stony soil. Vinification: Stainless steel tanks. Exclusively from free-run must from selected grapes from the Miñoteira y Portela vineyards. Finca Teira, a new addition to our lists at Flatiron and...
Market to Menu: Crudo de Lenguado
Today's 'Market to Menu' features Baby Zucchini and Kumquats from the Union Square Market. To utilize the beautiful produce, Chef Anthony Lemortellec from our Soho kitchen has prepared a Cured Rhode Island Fluke and paired it with Lime, Kumquat Chips, Marcona Almonds, Scallion, Piquillo Pepper, Baby Zucchini and Saffron Oil for a light and delicate summer dish.
The Spring Party 2012 at 11 Madison Avenue
On Wednesday, May 16, the already beautiful lobby of 11 Madison Avenue was transformed into a dining room for this year's magnificent Spring Party. The annual dinner and auction benefiting Madison Square Park brought together hundreds of Park supporters for an evening of fabulous food, drinks, and company. Chef Vidal was honored to serve the 1st of a 4 course seated dinner for 270 guests.  He...
Catalan Cava Cocktail
Last weekend, we launched Brunch service at our Washington DC location and the bar staff took the opportunity to test a new selection of Brunch cocktails. The first on the list, the Catalan Cava Cocktail begins with  Ya 23 Cuve Cava, a Catalan Sparkling wine from New York based importer and distributor, Vinos Libres. In 2010 the Vinos Libres team traveled to Penedès, Spain, to seek out the best...